Texas Public Policy Foundation's Criticism of Governor Abbott Misplaced—Dallas District Attorney's New Policy Is a License to Steal
Recall, Dallas District Attorney John Cruezot is not going to prosecute thefts under $750 for those necessary items, in addition to not prosecuting some weed and some other low-level offenses.   Governor Abbot recently criticized the move on the theft charges as "wealth distribution by theft."
RELATED: 'That's socialism': Texas Gov. Abbott says Dallas DA's justice reform plan is 'wealth distribution'
DA Cruezot didn't waiver—he's still going to subject retailers and citizens to thefts of their items if he deems it necessary for the thief to have it.  He then clarified the definition of what he is talking about after the state police union called for his removal from office.  Necessary items "would include items such as necessary food, diapers and baby formula."  Yet, he does not limit the definition of necessary items to those three categories.  Certainly, prescription drugs would count if necessary, as would any other over the counter medicines.  Of course, a simple question illustrates the fallacy—will such defendants be permitted to purchase name brand items or will they be restricted to less expansive, yet perhaps less nutritious store-brand or generic items.  Can they steal organic?
RELATED:  Gov. Abbott's attacks on Dallas DA Creuzot 'misguided,' conservative criminal justice advocate says
We think DA Cruezot has another problem: his policy is likely unconstitutional because a person cannot with any reasonable degree of certainty understand whether the items he or she is taking are necessary personal items or not and therefore a crime subject to prosecution.  The policy is itself unconstitutionally vague.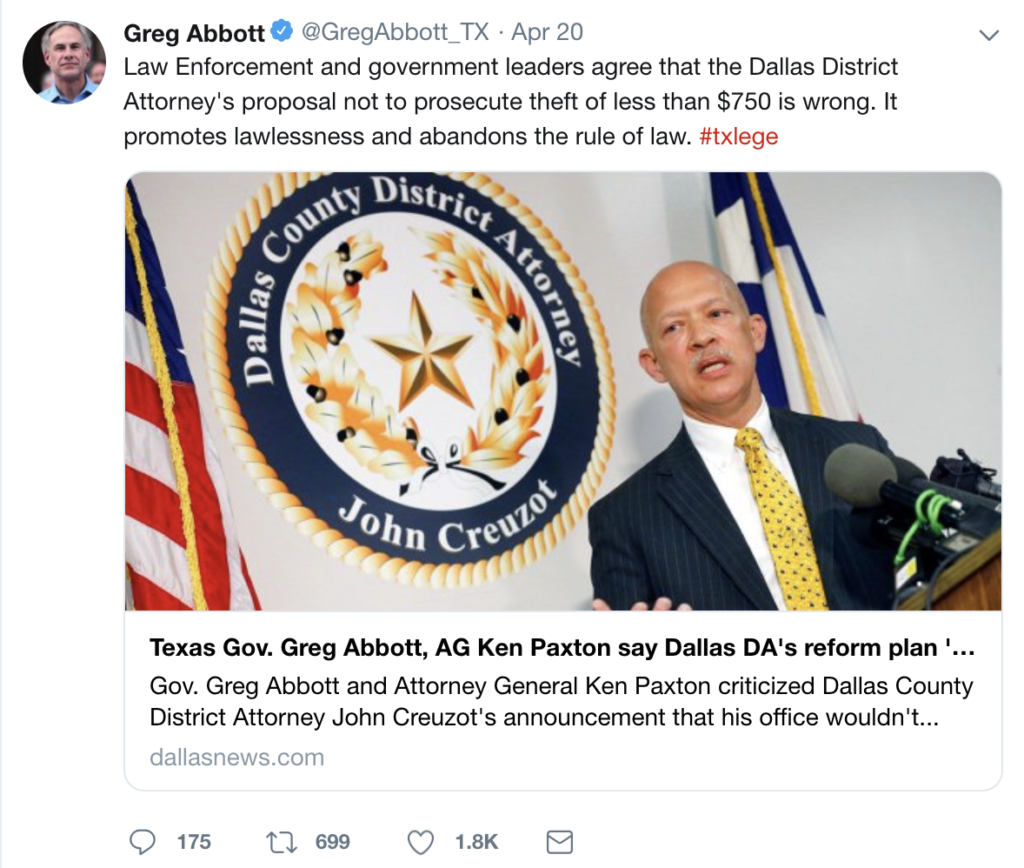 Enter the Texas Public Policy Foundation (TPPF) who then took up for DA Cruezot, saying these policies are "100% in line" with the goals of the Texas Public Policy Foundation, a $12 million grant-mill that focuses mainly on self-promotion.  Of course, this means TPPF agrees that everyone in Texas should be able to go to a merchant's store and simply take what they need.  How they and their other self-promoting affiliate Right on Crime have credibility among policy-makers is beyond us.
Yet, then, they decided to go ahead and attack Governor Abbott: "The big concern the governor and others have is that this is going to be perceived as a license to steal.  That's absolutely ludicrous. They are still going to be arrested. I can certainly understand the concerns and compassion for that, but it's misplaced and it's misguided."  Let's see "concerns and compassion for that?"  We think it was more rightly placed outrage by the Governor, which we commend.  We think people on the street, and we don't mean Wall Street, will figure this out faster than green grass through a goose.  In fact, the Urban Dictionary defines License to Steal more in line with the practice in which Cruezot is engaged: "License to Steal: A law degree coupled with a passing score on the state bar exam."
Let's break down this "absolutely ludicrous" proposition that Cruezot's policy is a license to steal.  Needy person goes into store.  Fills up cart.  Walks out.  Store says stop.  Person says no, it's personal use.  Then what?  Are the police are going to roll out, inspect the shopping cart, and decide whether a line was crossed?  Maybe Cruezot ought to send out his prosecutors to handle the pots and pans law cases that will need handling as a result of this new policy.  The bigger question is how will retailers deal with this?  They won't be able to know what Cruezot's definition of necessary includes and excludes, nor will the thief's/innocents.
To say that people who steal less than $750 are going to still get arrested is absolute hogwash.  People will know this since Cruezot announced that they are immune from prosecution.  Plus, what is the definition of necessary?  Where does it end?  Building materials could be arguably necessary if one has a leaky roof.  The idea that officers in the field are going to roll out to Wal-Mart and sort through all of this is not going to happen.  Plus, what law are they supposed to apply?  An arrest would be a simple mere inconvenience that typically won't occur.

Another key problem—there is no indigency test for "necessary."  A person may steal "necessary" items and the only test is whether or not it is for gain and not whether the person is homeless or indigent.  If it is consumed, it is not for gain?  The result…every Tom, Dick, and Harry is going to be swiping briskets at the HEB.
This policy is going to give people a license to steal in practice, and local retailers will be the victims of all of this as will the public.  When it's "necessary" to have Christmas presents for the kids, your goods will be taken when you are at the mall and there is nothing Dallas District Attorney John Cruezot is going to do about it.  Indeed, we agree it is "necessary" that people have a nice Christmas, and that does include a commercial component.
That this is "100% in line" with what the Texas Public Policy Foundation sees as a major reform is itself ludicrous.  Instead, maybe they ought to spend some of the $12 million they have in the bank and give directly to retailers to pay for all the goods that are going to be taken or give it to the defendants so they can simply buy the goods themselves.
As for us, we won't be going shopping in Dallas County again.  The prices are going to go through the roof, and while we can think of a lot of necessary items that we would need, we are going to remain old school and go ahead and believe in the enforcement of criminal statutes and maintaining the rule of law in Texas.  We think Governor Abbott is also in that camp and has been unfairly criticized.
In short, Right on Crime is Wrong on Crime.
Facebook Comments