Colorado Legislation that Will Increase Mass Incarceration Advances; Governor's Public Safety Director Leading the Effort
---
The Governor's Public Safety Director Stan Hilkey is pushing policies that will increase mass incarceration in Colorado with Senate Bill 161 (SB-161), a bill modeled after the so-called success in Mesa County.
The bill was heard in the Senate Judiciary Committee on February 24, 2020 and is now one step closer to creating Hilkey's taxpayer funded pretrial release empire.
So, what about this Mesa County success "pioneered" by Stan Hilkey?
Senate Bill 161 is purported to reform the pretrial system to reduce reliance on bail, and force counties to use a statewide computerized risk assessment to help judges decide who goes to jail, who gets out, and then help decide who gets the statewide dragnet of supervision the presumptively innocent will now be subject to.  This bill shifts the judicial discretion to set bail from judges to an algorithm designed to trammel the basic civil liberties of defendants with a wide range of onerous release conditions…all in the name of fairness.
The intent of SB-161 is to implement the Mesa County model.  Recent data sheds some light on the success of Mesa County's pretrial reforms designed by Director Stan Hilkey when he was Mesa County Sheriff:
Mesa County increased the male adult population jail population in Mesa County by 32% over four years from 2015 – 2019.
The total average daily jail population increased by 101.1% over 8 years since Stan Hilkey started the bail reforms in 2012, the vast majority of whom (80.1%) are pretrial detainees.
The County is now looking at spending $21 million on a jail expansion.
During the Senate Judiciary Hearing, the purpose of the legislation was made by State Attorney General Phil Weiser, who said it was "a Mesa County solution."  The Attorney General also made clear that Department of Public Safety Director Stan Hilkey is behind the reforms and in effect it was all his idea:
"What we are doing for Colorado is what has been done in Mesa County.  It is not an accident that the head of the CCJJ (Colorado Commission on Criminal and Juvenile Justice) that is the leader of our Department of Public Safety is Stan Hilkey, the former Sheriff in Mesa County who oversaw these reforms.  What we are seeking to do in this bill is make work for Colorado what has been pioneered in Mesa County."
Of course, the 32% increase in the adult male jail population was left out of the Senate Judiciary Committee hearing, however, you can follow along more here: Facing Overcrowding, Mesa County considers expanding jail, Colorado Politics – November 14, 2019
Could population growth have caused the increase in inmates in Mesa County?
Not even close.
Turning to the actual population statistics put out by the Mesa County Sheriff, the average daily jail population in Mesa County right before the Mesa County pretrial reforms began in June of 2012 was 267 inmates.  In February 2020, the average daily jail population was 537, a staggering 101.1% increase in the average daily jail population over the eight years of the so-called pretrial reforms.  The county population is growing at roughly a 1% annual rate between 2015 and 2018.  Between 2015 and 2018, the total county population only grew 3.4%: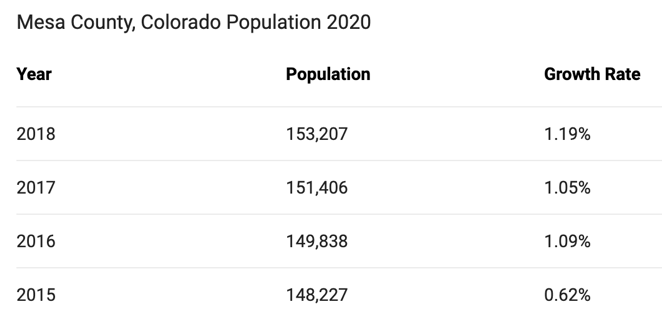 The report also notes that 80.1% of defendants in the Mesa County jail are in pretrial status, meaning presumed innocent, and that the increases are driven nearly almost entirely by that population, the one the "reform" was targeting.
Fast forward now to what Stan Hilkey, the architect of the Mesa County program and state head of criminal justice policy had to say on these matters at the Senate Judiciary hearing on February 24.
Hilkey began by pointing out the Governor wholly supports the legislation, Senate Bill 161, and that it was one of the administration's "wildly-important" goals.  Said Director Hilkey: "I also want to make sure the committee knows, that the Governor supports this bill as well."  He further stated: "I am a member of his cabinet; this has been one of our criminal justice working groups wildly-important goals—which is a performance management system the Governor has for us to see and work on.  It has been a process goal that has been acurried [sic] in the CCJJ.  It is also a result of all of that work that we are here today."
Although Director Hilkey was the key architect of the Mesa County model, which he is now attempting to implement statewide, he noted he was not the "King" of Mesa County: "I came from Mesa County.  I do not claim to be the King of Mesa County.  Or that work.  There was a lot of people that there were."  One of them who has been "part of that work" with Director Hilkey in Mesa County since the beginning is Mesa County Chief Deputy District Attorney Bo Zeerip, who appeared at the hearing in support of the legislation on behalf of his boss, District Attorney Dan Rubenstein.
Said Mesa County Chief Deputy District Attorney Bo Zeerip of the purpose of the legislation: "We have done some things in Mesa County that that I am very proud of, that I'll guess I'll say are very progressive.  Much of what you see in Senate Bill 161 we have already tried in Mesa County."  Zeerip maintained that the Mesa Model has been a smashing success saying they targeted the right people to lock up at higher rates, and based on the numbers they are doing a tremendous job of locking more innocent people up: "I believe that through a combination of the risk assessment tool and the professional discretion of the judges, we have fairly accurately targeted the right people."  He said the pretrial risk assessment tool his driving who is in the jail according to their data, and that they have accomplished their goals: "After the implementation of the risk assessment tool, our jail now is primarily high-risk individuals.  That was a big goal of ours."  No statistics were available as to the impact on racial minorities of doubling the jail population in Mesa County over an eight year period.
Of course, for Zeerip, he doesn't stop at these reforms.  He testified that he and his boss want more power to detain defendants as part of his Mesa Model by changing the Colorado State Constitution to allow him the ability to file a motion to deny people the right to bail altogether to lock up even more defendants.  Said Zeerip: "The way I look at pretrial, there is the release side and the detain side."  He noted that Senate Bill 161 was the "release side" and that the detain side would be coming next time.  If the release side increases pretrial mass incarceration by 32-101.1% then we wonder what the detain side, brought you by Stan Hilkey and his buddies over in Mesa County, is going to look like next year.
We think encouraging the right to bail and accountability by whatever means should universally be encouraged, not created a system of algorithmic injustice that will increase pretrial mass incarceration and bankrupt county and municipal governments.  When the poster child of the new system backfired to this degree, we don't know how anyone can suggest that spending $4.1 million of the general fund statewide in perpetuity to make the system go statewide by passing Senate Bill 161 makes any sense at this point.
The pretrial system can use some tweaking, as advocates have said including us, but the main engine and reason for the reforms has evaporated.  The national debate on risk assessment tools is over everywhere but Colorado where they are still being encouraged – just ask academia and the social justice groups that now adamantly oppose them.  Senate Bill 161 will increase pretrial mass incarceration on day one, using an algorithm that has not been yet proven to be free of racial bias as was conceded by the data expert at the hearing.  $4.1 million is better spent elsewhere.  It is time for the administration to stop pushing policies that will increase mass incarceration and deny the right to bail.
Facebook Comments